Seeking The Way

George Alexander's self-portrait of his experiences and life in the martial arts is an unrivaled work. This candid autobiography is a riveting account of his martial adventures and is both informative & entertaining. Known as an early "Pioneer" of Karate, he takes the reader from dojos in Japan & Okinawa to jungle fighting in Vietnam to Shaolin monasteries in China and beyond. His adventures in an overall context are an account of how the Asian martial arts craze that affected him so deeply started in America and ultimately spread worldwide. In this revealing & enlightening presentation, he gives a critical and insightful account of how modern martial arts disciplines & martial sports have become a truly unique international subculture. This autobiography is filled with rich experiences & gives us an account of history as he has seen it and lived it. His life from jungle fighter to world champion and historian is the history of modern martial arts in America, the world and more.
Price: $49.95
ISKKF Training Manual

This is the official training manual of the International Shorin Ryu Karate Federation. It encompasses the history and techniques of the system from beginner to master levels. It includes illustrated techniques and katas for the entire system as well as ranking qualifications for promotion within the system. Written by top master Hanshi George W. Alexander, this is a must have for every student and instructor of Shorin Ryu Karate.
Price: $39.95
Way Of The White Crane.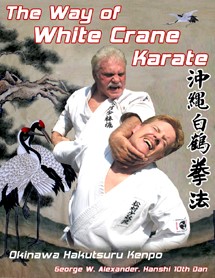 This is the first book dedicated solely to Okinawan White Crane Karate. This book will teach you the complete Hakutsuru Kenpo Karate system. It includes history, theory of applications, kata, kumite-sparring techniques, two-man sparring kata, pressure point striking and knockout secrets. It explains in depth the secrets contained in the Bubishi, karate's mystical sourcebook. It explores karate's development in Okinawa and uncovers the hidden truths about styles, masters and much more.
Price: $49.95
Warrior JuJitsu.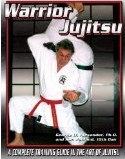 By
Ken Penland and George Alexander
Learn the complete art of Jujitsu! Warrior Jujitsu is writen by martial arts pioneers Ken Penland, 10th Dan and George Alexander, 9th Dan. This 200 page training manual is the complete reference source for Jujitsu. It includes over 70 throwing techniques – each one fully illustrated, wrist locks, arm bars, joint locks & immobilizations, leg locks, ankle locks, spine locks, pins, atemi waza, punches, kicks, Pressure Points & Kyusho Jutsu-vital point striking, strangulations & Chokes, Rensoku waza-defense sets – fully illustrated, katame waza and ground fighting(pyramid defense & four angles defense hold downs & submissions), real fighting techniques – including self defense arts & Street Applications – single and multiple attacker, knife, club & gun defenses, Aiki Jujitsu take downs, rank requirements, resuscitation and much more. This manual is designed to be accompanied by the complete set of video tapes on Shorinji Ryu Jujitsu which outline all the techniques required for promotion through 6th degree black belt and Master Instructor's License. This system is used by the Los Angeles Police Department and other Law Enforcement agencies. It's a great Jujitsu system that compliments any fighting style.
Price: $34.95
The Bubishi

Finally! The secrets of the Bubishi translated for the first time! Shrouded in mystery, the Bubishi – Martial Art Spirit is the secret karate text of the Okinawan masters. This book inspired the modern developers of karate such as Chojun Miyagi, the founder of Goju Ryu Karate, Kenwa Mabuni, the founder of Shito Ryu Karate and Gichin Funakoshi, the founder of Shotokan Karate. Guarded for centuries, this mystical book was completely translated into English by Masters George Alexander and Ken Penland. It includes the history of the White Crane System, the Sanchin, Happuren and Nipaipa kata, "The Secret of the Blood" know as Dim Mak, Meridian Theory & Chinese Acupuncture, Pressure Points, Set up & Multiple Strikes, White Crane Fighting Techniques, Knockout & Killing Techniques, an explanation & illustration for 48 essential resuscitation techniques and much, much more! A one of a kind book that every serious karate student and instructor must have.
Price: $39.95
Okinawa Island of Karate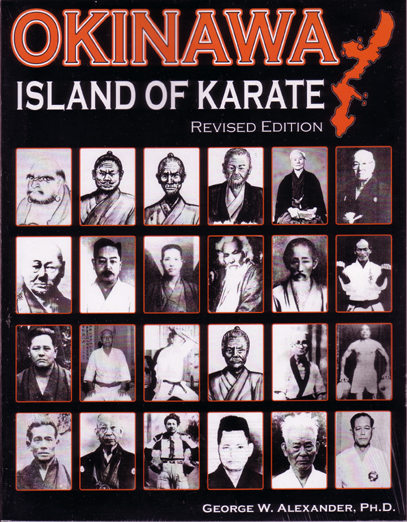 TABLE OF CONTENTS:
1. THE RYUKYUS & OKINAWAN MARTIAL ARTS DEVELOPEMENT.
2. THE SETTING: EARLY HISTORY OF RYUKYU.
3. UNIFICATION OF THE THREE KINGDOMS & RYUKYU'S CONQUEST
4. OKINAWAN MARTIAL ARTS STRUCTURE & TERMINOLOGY
5. INTRODUCTION TO CHINESE & OTHER FIGHTING STYLES.
6. SHURI-TE & NAHA-TE.
7. MASTERS: ANCIENT & CONTEMPORARY.
8. TECHNIQUES & TRAINING EQUIPMENT.
9. THE ORIGINS OF KARATE KATA.
EPILOGUE
Price: $34.95
Japan Warrior Nation.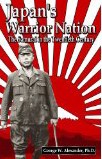 George W. Alexander, noted historian, military man and author gives a critical and insightful account of Japan s warrior culture and how this culture led the country into World War II. He clearly explains how a nation can become obsessed with war and be led astray by its leaders. In the case of Japan, Alexander explains, It developed in a setting of continual warfare which gave it a predisposition to settle its economic problems with military aggression in the twentieth century. He further explains how a military entrenched for centuries developed the code of bushido and how it affected the character of the whole of Japanese society culminating in the Pacific War. Will Japan use its military power again to expand its territory? This book provides insight into the geo-political relationships of the countries within the region of East Asia to predict the political and military ramifications of an inevitable future conflict. Anyone with an interest in Japan, World War II and the future of Asia will find this book an essential read!
Price: $34.95
Sun Tzu Executive.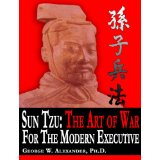 In this revealing and enlightening presentation, Dr. Alexander gives a full account of Sun Tzu's remarkable book. He gives many examples of how this text can be interpreted not only as a guide to Sun Tzu's bold and aggressive military strategies but also as a lexicon of practical business lessons. The reader will learn to comprehend competitive advantage, develop successful strategies and understand management, leadership, finance and marketing from Sun Tzu's unique perspective of ancient wisdom. This version of Sun Tzu is an unusual combination of East Asia And Chinese history, martial arts and business applications. It isn't like any other version you've looked at before. It examines and analyzes Sun Tzu's wisdom from a number of different perspectives that are often if not mutually exclusive certainly vastly different. It looks at Sun Tzu from the eyes of a historian, a military man, a martial artist and a business executive! This book is not only a fascinating read but is also a truly practical guide for business and contains knowledge that the modern executive and entrepreneur should not be without!
Price: $19.95
Essential Kendo The Way of the Sword.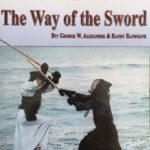 Kendo is the art of Japanese Swordsmanship. This is the most popular art in Japan today. Modern Kendo is both an art and an exciting sport. Its roots lie deep in the culture of Japan and the spirit of the Samurai Warrior. This text is intended as a source book where the modern sport of Kendo can be reviewed in one book. Additionally, since the martial arts are experiential in nature i.e., they must be practiced on a physical level rather than on a purely academic level in order to fully understand them, the text encompasses a broad spectrum including the history of Kendo as well as its techniques and kata. The text is intended to give a basic overview of the sport and its techniques in the hope that the reader will develop a broader basis of understanding and further knowledge of the martial are of Kendo.
Price: $29.95