The Martial Arts of Okinawa, and Japan.
Shorin Ryu Karate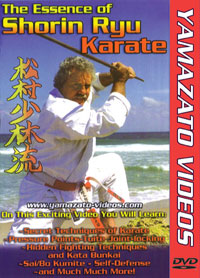 THE ESSENCE OF SHORIN RYU KARATE FEATURING MASTER GEORGE ALEXANDER, 9TH Degree Black Belt This tape is an overview of the Shorin Ryu Karate style and explains the essence of the system on one videotape! Okinawa, Japan is the birthplace of karate. Its practice there dates back to ancient times. Shorin Ryu karate is the oldest and most traditional form of Okinawan karate and is based on pure self-defense. Shorin Ryu karate was founded by Bushi Warrior Matsumura (1797-1889) who was the bodyguard of the Okinawan king. The Shorin Ryu karate style contains many secret and hidden techniques which are revealed on this exciting video! These techniques include body shifting, pressure points, strikes, kicks, take downs and Tuite joint-locking and grappling. Shorin Ryu karate is practiced mainly by performing the traditional kata of the style. This video includes a complete explanation of the hidden movements and fighting techniques of the kata Pinan Shodan, Naihanchi Shodan, Passai Dai and Kusanku. It also includes demonstrations and explanations of Sparring, Ippon kumite! , Yakusoku kumite (two-man sparring kata 1-6), Bo Kata Sunakake no Kon, Kumibo Sandan (two-man Bo fighting kata), Sai/Bo Ippon Kumite and Self-Defense Applications. A one of a kind video that truly captures The Essence of Shorin Ryu Karate. 60 minutes
Price: $24.95
Kumite Fighting.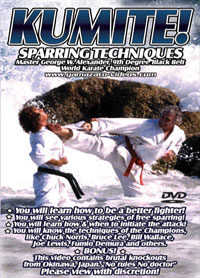 KUMITE! FIGHTING KARATE This video will show you techniques and fighting strategies that will make you a better fighter no matter what your style or martial art! Master George Alexander, USA Karate Champion and World Karate Champion fully explains the techniques of karate sparring on this unique video. He explains the various strategies of free sparring including offensive and defensive techniques. How to initiate the attack, the right psychological moment to attack, angular attacks, feinting, drawing and devastating combinations. He explains how to defend against "The Kicker", "Bigger and/or Faster Opponents" including body shifting, footwork, neutralization and trapping. And techniques of champions like Chuck Norris, Bruce Lee, Mike Stone, Bill Wallace, Joe Lewis, Fumio Demura and others. This one of a kind video shows you how to fully develop your sparring techniques so you can be your absolute best! BONUS!!! Kumite! Fighting Karate also contains brutal knockouts from Okinawa, Japan. "No rules ! No doctor" Please view with discretion! 60 min.
Price: $24.95
Oyama Kyokushinkai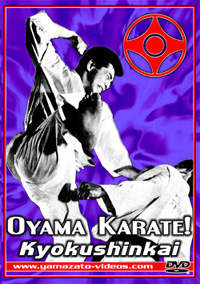 Product Description:
The greatest and most comprehensive collection of kyokushinkai karate ever produced! Includes basics,Yakusoku kumite, kata, tameshiwari/breaking, kumite as only kyokushinkai can do it! Spectacular knockouts! Plus a Bonus! Rare footage of Oyama Sensei himself sparring and fighting bulls to the death!
Featuring; Tadashi Nakamura, Shigeru Oyama, Dolph Lundgren, William Oliver, Shokei Matsui, M. Sato, Hatsuo Royama & manyothers. An absolute must for every karate enthusiast!! 90 minutes
Review:
Five Stars! —Fighting Spirit Magazine
Price: $24.95
Nitta Shorin Ryu Karate I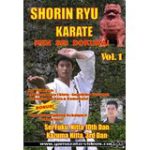 Shorin Ryu Karate Ken Sei Doku Kai Volume I features Grand Master Seifuku Nitta & his son, Karate Champion Kazuma Nitta. Shorin Ryu karate is one of the oldest and most traditional styles of karate. On this exciting DVD you will see the kata of Shorin Ryu Karate. You will learn two man fighting sets known as Yakusoku kumite and Kobudo, Okinawa s ancient weapons. You will learn the Bo kata Tokumine no Kon & Grand Master Nitta s unique Bo fighting techniques & the Kama Kata & Bo versus Kama fighting techniques. You will learn the Ekku Bo (Oar) kata & much much 60 min. Rated Five Stars.
Price: $24.95
Nitta Shorin Ryu Karate 2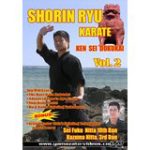 Shorin Ryu Karate Ken Sei Doku Kai Volume I features Grand Master Seifuku Nitta & his son, Karate Champion Kazuma Nitta. Shorin Ryu karate is one of the oldest and most traditional styles of karate. On this exciting DVD you will see the kata of Shorin Ryu Karate. You will learn two man fighting sets known as Yakusoku kumite and Kobudo, Okinawa s ancient weapons. You will learn the Bo kata Tokumine no Kon & Grand Master Nitta s unique Bo fighting techniques & the Kama Kata & Bo versus Kama fighting techniques. You will learn the Ekku Bo (Oar) kata & much much 60 min. Rated Five Stars
Price: $24.95